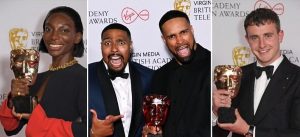 Watched a half-hour or so of this so-called prestigious awards show earlier tonight on the Beeb, as there was basically nothing else worth watching on prime time TV. Pretty drab show with monotonous nominations, until the 'piece de resistance' nom was announced – the 'must-see moment'. It was apparently voted for by the public.
The programme host made a great play in deciding who, from the virtual audience, was going to announce the winner, eventually arriving at a nice white family who had to deliver the news that the Britain's Got Talent performance by Diversity where they phucking took the knee on the show, was the winner.
Had to switch over to anything as my piss boiled and the danger of me throwing something through my TV rose as Ashley Banjo wallowed in his glory.
https://www.bbc.co.uk/news/entertainment-arts-57331430
Nominated by: knobrot
And here's some more, from Cuntstable Cuntbubble 
The Baftas.
Blacks and faintly talented Afros and shirtlifters.
Any straight white person of talent may as well pack it in and shelf stack. The only criteria applied now is how black/gay/preverted is it?
This is not diversity it is affirmative action where color or preversion trumps merit every time.
https://news.sky.com/story/bafta-tv-awards-2021-the-full-list-of-winners-12326588
Drama – Save me too. Guess what colour?
Comedy – Big Narsty. As above.
Entertainment – the Ranganation. Unfunny shite with an Asian twist.
Entertainment Programme – Life and Rhymes. Benjamin Zephaniah. Shit poet who happens to be ? John Cooper Clark he aint.
If you can be arsed to go down the list it is mostly the same. Programmes no fucker watches but full of worthy macaroons. Let's hope none get cancelled
like the last shitshow.
Black Luvvies Mostly
Chiggun.