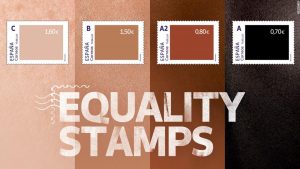 The Spanish post office issued a series of stamps to raise awareness of racial prejudice, but have themselves been accused of racism since the stamps are in various skin tone colours: the light brown ones are 1.60 euros, whilst the black ones are 0.70 euros. This has naturally caused 'outrage' as the stamps have been deemed as racist.
Moha Gerehou, an author who has written about racism in Spain, said that though these stamps were a good idea they unconsciously transmitted the idea that black lives were worth less than white.
"The campaign has an insurmountable underlying problem: what comes out from this is that black stamps have less value than white ones," he tweeted.
"What is transmitted and what remains is a huge contradiction: a campaign to show the equal value of our lives puts into circulation stamps with an unequal value according to colour. The message is an absolute disaster. It is racist."
I presume the Penny Black must be racist then.
Nominated by: mystic maven