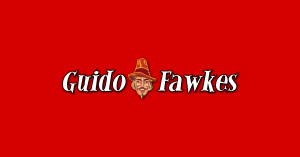 I'd like to say what we are all thinking and formally move to officially ( and with a heavy heart) cunt Guido Fawkes and the 'Order order' website.
For many years this site was an oasis of common sense providing opportunity to speak your mind and give arsehole politicians what for in no uncertain terms. It was generally right of centre but also appreciated some well considered input from some of our left wing friends when they spoke truth unto power.
Staines himself used to boast, in response that the language used was full of sweary words like 'cunt' for example was simply the language you would hear in pubs up and down the country and thus simply reflected the voice of the common man.
However, as you will no doubt have noticed the tone of this site has somewhat changed over the past few years. From around 2010 when Cameron took power the site has become more and more a a platform for Conservative party arse licking.
Indeed, it is now clear the site is run by the Government for the Government. I don't know how much Fawkes was paid or what he was threatened with but he sold out and it's obvious as fuck.
Visit the site these days and what you will find is Government sponsored house trolls all over the place often arguing with each other when the site is quiet. The other day it appeared the whole site was engaged with rimming Boris Johnson and it was not a pretty site.
Just goes to show how much the establishment have taken over the internet. Cunts.
Nominated by: Jack