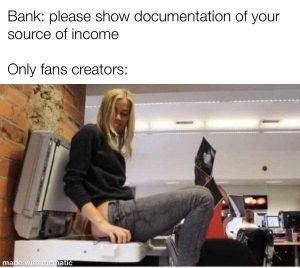 What is only fans? (Like you pretend you don't know already) it's like Instagram only you pay to basically watch women get their tits out.
https://www.thesun.co.uk/tvandshowbiz/14355641/teen-mom-briana-dejesus-onlyfans-sucking-toes/amp/
These talented young women make thousands doing anything you like for cash and making themselves rich. Now if sad people with more money than sense and women with no morals or future view to employment wish to do that fair enough.
Then there's this:
For a mere £10,000 you can livestream a woman giving birth. Imagine explaining to your kid in a few years that when you were born there were strangers with a niche fetish were wanking online watching.
I think this is what Alan Turing really wanted for his invention
https://www.dailyrecord.co.uk/news/scottish-news/pregnant-onlyfans-mum-plans-live-24092179.amp
Nominated by: LazyBiscuits