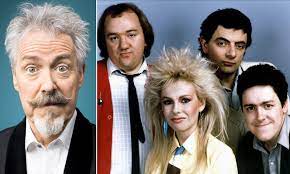 I'd like to nominate celebrities who are obviously alkies but won't admit it.
There is nothing to be ashamed of to end up being an out of control piss-artist so why do these cunts pretend that they're better than everyone else?
Two examples spring to mind. I can't believe that they haven't already been cunted .There are probably loads more.
One is that Desperate-Dan- chinned Welsh cunt, Griff Rhys-Jones who claimed that he had some "complicated relationship with alcohol" and has resigned himself to be teetotal .
Another is that scrawny Great British Menu judge with a pale face and a Stan Laurel hairstyle, Oliver Peyton. Why would the cunt spend some time in the Priory if they didn't have a problem?
Now I'm not judgemental… no one who started off going to the pub on a Friday night with their sixth-form mates actually wanted to be an alkie but when they have they've not been ashamed to admit it.
Griff Rhys Jones And Alcoholism
Nominated by: cuntator