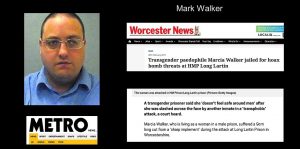 My piss is boiling again. Mark Walker, a man who now demands to be known as 'Marcia Walker' as a male to female tranny, got put in prison for the child rape of two little girls. One of them was just four years old. Other offences include distributing child porn and making bomb threats against prominent people, including former PM Theresa May. How he's ever allowed out into society is a mystery to me.
Towards the end of his sentence, he then had some National Geographic mags taken off him as they had pictures of naked kids in them. They also took razor blades off him. He went nuts and attacked the guards, which included spitting at them and shouting 'I've got covid!'
Goes to court and guess what. The judge, Ray Singh (yes, that is his name lol) gave him 15 months suspended for two years.
In other words, this absolute piece of shit is back on the streets.
No, absolutely won't be any issues here, will there. This cunt should've been executed in the first place anyway.
Fuck off.
https://www.breitbart.com/europe/2021/05/06/trans-child-rapist-freed-despite-attacking-prison-guards-after-they-took-her-shaving-razors/
Nominated by: Cuntybollocks