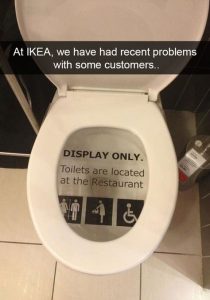 These flat-pack selling bastards with one of the worst customer experiences in the world (on par with Wong Kei in London's Soho) are now on the sustainability bandwagon. What's wrong with wanting to be a bit greener? Well nothing in my mind, unless of course you are an international brand flogging particle board wrapped in plastic veneer by the megaton and pretending you have green credentials!
I came across this article on the Ikea website and find the title of it outrageously alarming "Save money and the planet without leaving your home". Its the 'without leaving your home' bit that I find alarming. What is that? Is it a leftover from the pandemic? Or is it yet another cynical marketing ploy to the new generation who want to stay in? The 'without leaving your home' is never explained in the article. Intrigued, I read on.
Their article then continues, this time trying to flog a portable induction hob, that wait for it, makes it possible for you to 'cook up a storm without leaving the sofa.' Please see this for yourself on their website via the link below. It is completely ludicrous. I'm not totally uncultured, I've been at a gathering to enjoy German Raclette, meat and cheese cooked at the table, and in Korea they have indoor BBQs at restaurant tables; all social and involves going out, unlike this sinister Ikea angle of 'not leaving the sofa'.
Sadly this Ikea marketing ploy resonates all too well with the recent KFC delivery ads, you don't have to move, you don't even have to go to the kitchen and now you can cook on your coffee table without leaving the sofa and save the planet at the same time apparently. Wtaf?! Is this what makes people tick nowadays? Not leaving the sofa or the house to do anything?
Purveyors of rubbish meatballs and dodgy particle board. Maybe that's what Ikea means in Swedish.
https://www.ikea.com/gb/en/this-is-ikea/sustainable-everyday/save-money-and-the-planet-without-leaving-your-home-pub7b284681
Nominated by: Cuntologist