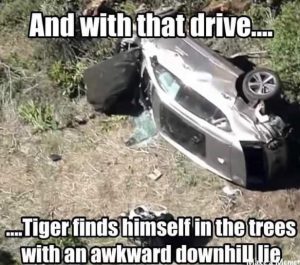 Apparently this dick was travelling at twice the local speed-limit (90 in a 45mph), when he lost control of his car, crashed, rolled and ended up 300 yards down the road in a field last February.
He obviously survived the crash, but ended up with "a number of serious injuries"
There is no evidence to suggest he was drunk or on drugs at the time. But the car's "black box" suggested that Woods got confused when he realised he was losing control of the car, and pressed the accelerator rather than the brake, which made the situation worse.
Woods has some form with car crashes: one in 2009 during his infidelity days; and another in 2017 when he fell asleep at the wheel and got done for reckless driving.
What's particularly annoying is all the good wishes he got after his latest accident, even though he was speeding and thus breaking the local laws.
Always gets on my nerves when celebs seem to get a pass because of who they are when they have accidents. Whereas with some ordinary Joe Public cunt they're ostracized/demonised for being selfish and reckless!
https://www.bbc.co.uk/sport/golf/56668821
Nominated by: Technocunt