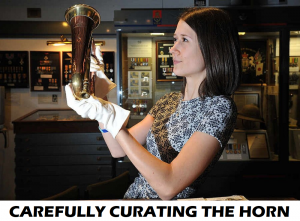 I would like to nominate the use of that annoying and totally redundant phrase "carefully curated". I see this phrase more and more and every time it makes me want to punch a hole in my computer screen.
This is a phrase used by cunts trying to sell useless shit. In the business of selling garden gnomes? Then why not enhance the perceived value by describing them as a "carefully curated collection of garden gnomes". A restaurant specialising in cunt food recently described its menu as "carefully curated". I see this phrase everywhere, being used to persuade gullible fools into buying garbage by creating an idea of exclusivity.
Firstly, these twats are not curators. The job of a curator is to preserve valuable cultural artefacts. These people are just cunts trying to flog useless shit.
Secondly, the phrase "carefully curated " is a tautology. It suggests there is such a thing as 'sloppily curating', which is a contradiction in terms.
So be a good curator Admin, and add this noxious phrase and it's users to your carefully curated collection of CUNTS.
Nominated by: Marvellous Mechanical Cunting Machine