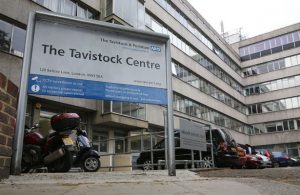 The Tavistock Clinic.
https://www.bbc.co.uk/news/uk-56539466
This temple to the disfigurement of children has been deemed 'Inadequate' by the health watchdog. Concerning yes, but when you look at some figures a picture emerges of trendy dogma above science, biology or logic.
'The number of children and young people referred to the service grew from 97 in 2009-10 to 697 in 2014-15.
Since it opened its doors in 1989, around 75% of GIDS' patients had been boys – natal males to use the language of the service at the time, now referred to as assigned male at birth.
In 2011, girls equalled boys in number for the first time. And by 2015 there had been a reversal in the sex ratio, with girls now outnumbering boys two to one.'
What is going on? Has their been a seismic shift in biology and genetics? After all, this is an alledgedly scientific institute.
Or has there been an increase in:
Social media which in turn has led to –
Pressure from tranny groups (that brooks no argument) to assert all mental and sexual ambiguity has to be down to being in the wrong body.
Anyone suggesting the latter is of course some sort of phobe.
Nominated by: Cuntstable Cuntbubble