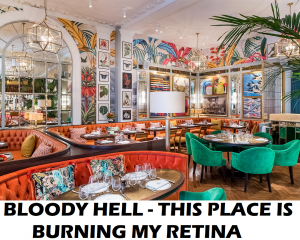 A nomination for the most pretentious pile of wank ive seen in some time, "The Ivy in the Lanes", in Brighton.
The chef Jason Atherton once called The Ivy (in London) a 'chip shop for luvvies' as it was frequented by panto dames and theatre folk, as well as washed-up celebrities.
Now Brighton, the South coast's London receptacle, has it's own Ivy-affiliate, the Ivy in the Lanes.
If you've been to Brighton, you'll know the Lanes is a district selling tat , sushi and bagels to chin-stroking hipsters. It seems very apt that the Ivy might open up a spin-off there, given how unwittingly establishment most of the cunts who live there actually are.
Sorry mate, i don't care about your band that uses funny time signatures. You're as alternative as Dame Judy Dench.
Wankers.
(Link provided by the rugged and handsome Night Admin – NA)
Nominated by: Cuntamus Prime