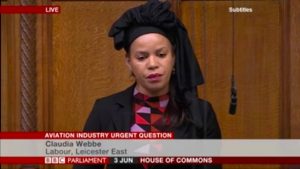 Claudia Webbe MP – racist, professional race baiter and shameless trougher.
I am truly surprised that former Labour MP Claudia Webbe appears not to have been nominated before – she is a truly worthy candidate!
Ms Webbe has been charged with harassment and is due to face trial for this – Webbe has stated she will resign her Parliamentary position in May after having the whip withdrawn by Labour some time ago – But she is still an independent MP for Leicester East, as well as – up until her resignation this Month, a Councillor for Islington Borough, raking in thousands of Pounds in "expenses" for this role on top of her salary as an MP in an entirely different part of the Country and despite admitting she has only spent 15% of her time actually doing the Councillors job.
Is there a single Labour politician who is not in Court?
Is there a single politician of any party who does not deserve to be publicly flogged for their shameless greed and despicable behaviour?
Nominated by: Vernon Fox
https://www.islingtongazette.co.uk/news/bunhill-by-election-set-to-go-ahead-7837666