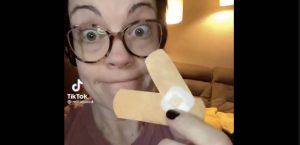 Raaaay-sist Plasters
There's a clip circulating on Soshul Meeja where some Yank bird, claiming to be a teacher, starts crying about the fact that plasters ( band-aids they call them in Yankland ) are white. They're obviously not but let's not have a row about shades of whiteyness because they are all bad, end of story.
She holds up a couple of plasters and says " every time I put these on a brown child I am literally adding insult to injury."
Fucking hell, I bet she thought that was a very clever thing to say not realising that she had just made a complete cunt of herself. ? Are you sure you are a teacher darling? I reckon the black kid who has just been stung by a cunting wasp doesn't give a flying fuck about the "insult" of the off white plaster. Talk about finding raaaay-sism where it doesn't exist……they should sign this bitch up to the Labour Party.
Sorry Admin, links are way above my technical ability. You'll have to do it yourself or bin the fucker.
(Well, you caught me in a forgiving mood, Freddie. I found a link to the story. – NA)
Nominated by: Freddie the Frog