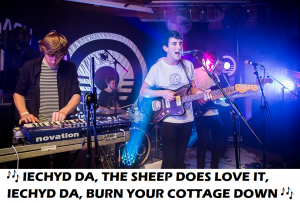 A novelty 'cos we is Welsh' cunting for Swnami, a vocal group apparently.
https://www.bbc.co.uk/news/newsbeat-56409123
'Why can't we sing in Welsh and be successful?' They cry.
Fuck me sideways. How fucking stupid can they get? No fucker outside of Upper Cwmscwt would have any interest these gormless bastards. But hang on, it gets better:-
"If people like Christine and the Queens can sing in French why cant we sing in Welsh.'
Perhaps because French is the first and only language of millions of Froggies whereas no fucker whatsoever speaks only Welsh. Even in Upper Cwmscwt, you deluded twats. Plus Swnami isnt even Welsh. Like most of Welsh since about 1200AD it is a bastardised foreign word, in this case Japanese. They may as well call themselves 'poppiti ping'
Made I laugh though.
Nominated by: Cuntstable Cuntbubble