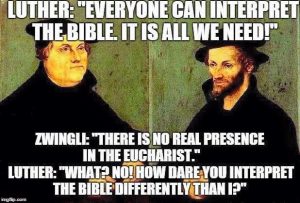 The Bible alone or 'Sola Scriptura' is the problem.
Yes from Luther, Calvin, Zwingli the cry was to hell with the 'traditions of men' all we need is the Bible alone as the sole rule of Faith.
But the problem with that is every Tom, Dick and Harry can set himself as an authority on the Bible and start his own church.
The joke number of Protestant denominations (from a protestant source) is 32,000. That's 32,000 different interpretations of the Bible. And the differences are not small either- the nature of the Godhead, whether baptism is needed for salvation, church governance.
Yes the Catholic Church did guard the bible jealously for fear of erroneous Interpretation in the past. Remember it is 2000 years old and has much much experience dealing with heretics.
On the surface sola scriptura is a very attractive notion. Here in England for example we have the idea that the Reformation freed the people from the 'clutches of the Catholic Church'. The people could read the Bible for themselves. How liberating! And decide for themselves what it meant!. Yes why not? It all sounds so good and open and freedom-loving and casting off the 'yolk of Rome'.
But therein lay the chaos of the the plethora of churches we see around us today. Such division is a scandal.
Given this day from his Chair in the See of Barnsley, Pope Plastic.
Nominated by: Miles Plastic
https://en.wikipedia.org/wiki/Sola_scriptura#:~:text=Sola%20scriptura%20(%22by%20scripture%20alone,for%20Christian%20faith%20and%20practice.