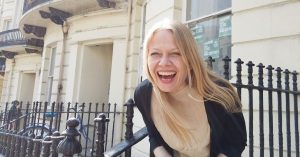 Sian Berry, Mayor of Londonistan candidate.
We all know the rat-faced runt son of bus driver, Suckdick Khan is a useless grandstanding cunt and is seeking re-election for mayor of our glorious capital but he has got some competition in the shape of Green Party wacko, Sian Berry.
Berry has set a target of zero murders in London within ten years if she were to be elected. Zero murders, really? How are the aspiring architects, engineers or talented footballers going to get "respekt" on the street if they can't stab a rival and send a message?
This kale munching wet wipe is as useless as Anne Franks drum kit, she can make whatever Jackanory bullshit promises she likes because she will never have to deliver on them. She also wants zero deaths on London's roads within ten years too as well as the usual carbon neutral soundbites, no mention on the litter, foreign beggars, third world ghettos or the lack of English identity, alas.
Fuck me, no murders, no road deaths, the only people left dying in London will be cunts of old age waiting to save a deposit to live in a £500,000 shoebox.
Nominated by: Liberal Liquidator