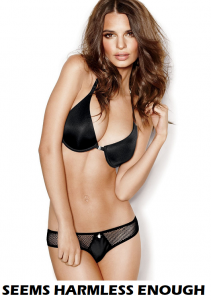 (Thought you'd like to wake up to this nomination – NA)
Emily Ratajkowski is a cunt, isn't she.
Who's this London-born model and why is she being nominated?
Is it because:
• she said last year that she fears giving birth to a "white male."
• she supports the BLM racists and wants to defund the police.
• she said, "I've known far too many white men who move through the world unaware of their privilege, and I've been traumatized by many of my experiences with them."
• she said while pregnant that the child will, "choose its own gender when it reaches the age of eighteen."
• she said while pregnant, "Whatever genitalia our child might be born with….. we ultimately have no idea who is growing inside my belly."
It was a surprise to many of this woke lefty's woke lefty followers when, after giving birth, she announced, "It's a beautiful boy." Funny how quickly human nature kicks in, isn't it? Bypassing all the abstruse woke "facts" on gender and the labyrinth of nonsense through which you have navigate.
If she were going out with me I'd insist I wasn't her "boy"-friend, nor her sugar "daddy". They're crude and offensive. I'd insist I was her Fuck Buddy.
If she didn't like it, she could boycott me.
Nominated by: Captain Magnanimous