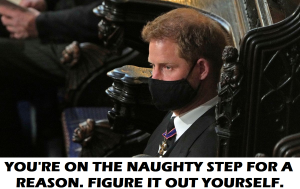 Prince Harry is a stupid cunt, ginger boy was surprised by the frosty reception he got from the family at Phils funeral.
This back stabbing ginger fuck monkey must be retarded if he thinks he can pull all the bullshit especially the interview with the fat, black space Hopper.
Ginger boy found the only person that extended him any respect was Prince Andrew, another retard who is more of an embarresment to the royals, so both of these muppets are getting a taste of what they deserve and good enough for the cunts.
I bet Harry is on the phone to sparkle tits every 5 minute, grand mama isn't speaking to me my little gold digger I don't understand.
I'm not a royal fan at all, especially one that can turn out such idiots and attract other idiots as this lot have, but any family has to have some loyalty and not airing your dirty laundry publically is an unwritten rule.
So he's either a horrible little cunt trying to fuck over his own family for money or he, s so thick he, s allowed himself to be manipulated by a gold digging whore, and don't start me off about the princess, weird inbred perpetually surprised looking ugly mutts.
Nominated by: Fuglyucker