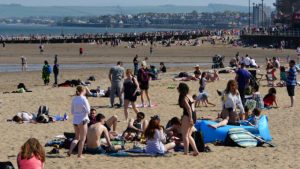 A more in sorrow than in anger cunting for the lazy section of the public who are demanding a "bank holiday" for the funeral of HRH Prince Philip.:
https://www.express.co.uk/news/royal/1421497/prince-philip-bank-holiday-proposal-funeral-duke-of-edinburgh-dead-royal-family-news-poll
These calls were made before the funeral was scheduled for Saturday, but that hasn't deterred the sods from demanding a week day in lieu so they can "grieve".
I am sure those shouting loudest are those cunts who wanted to "Remain" in the EU (now they wish to "rejoin") like that slimy opportunistic Femi bastard who has blamed the Ulster riots conducted by 12 year old boys on "Brexit" (of course).
In the main, most of the past year has been akin to a bank holiday for many of the GBP – why the fuck do they need yet another day (also considering there will be two of the useless things in May).
Lazy bleeders.
Nominated by: W. C. Boggs