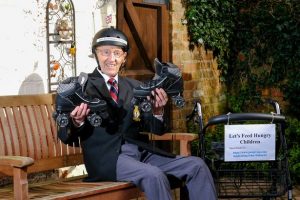 This 90 yr old, 'Poundland' Capt.Tom wannabe, says he was inspired to raise money by Marcus Rashford's (not again!) free school meals campaign and Captain Sir Tom Moore.
Capt.Tom raised £Millions – So far this tail end Charlie attention seeker has raised £3,600 for food charity 'FareShare'.
Sod off home, put your feet up, have a cocoa, watch Countdown & shut the fuck up.
Nominated by: Lord of the Rings
https://www.dailymail.co.uk/femail/article-9422175/Veteran-RollerJohn-89-skating-90-laps-garden-90th-birthday-inspired-Captain-Tom.html