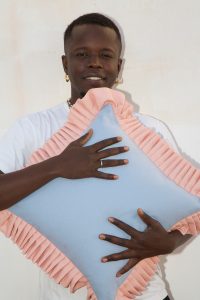 I just know that all ISACers will be touched by the success of this Gambian asylum seeker-turned cushion designer who only charges €80 to € 95 per cushion which he has sewn with his own artistic hands. That £70 to £82 which I´m sure you´ll agree is very reasonable.
The Financial Times recently featured him and gushed that "If joy could be sewn and stitched with ruffles" then it would be found in one of Paboy´s creations. These come in mixes such as "Raspberry pink with mango-tree-green ruffle" and "Pompeii red with sandy-yellow piping". His latest design is a "gorgeous Yves Klein blue and navy-blue combination".
The good news is that Paboy is in Italy and is unlikely to turn up in your street offering his cushions. After two years attempting to cross the desert and Mediterranean and sleeping rough in Libya, he got a permit to enter Italy. In Naples, he found a "dormant Singer machine and some vintage fabrics forgotten under a bed" which led him to found his business. No, they did not fall off the back of a lorry. He now plans to expand into bedding, tablecloths and duvets and employ fellow migrants.
Gambia´s loss is obviously Italy and Europe´s gain but as Gambia is now a functioning democracy maybe Paboy will let us down and just go back home.
http://www.ft.com/content/11a8dc07-87ca-467d-a6ba-4577a75e1fd8
Nominated by: Mr Polly