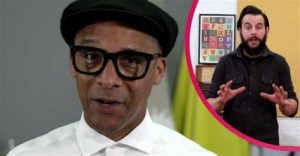 JAY & DOM'S HOME FIX:
A BBC Golden Radish nomination please for the most blatant example of daytime TV penny-pinching since the almost-daily cheap "News Reports".
Dom is Chinea and Jay, of course is the now you see him, now you see him again dark key wide boy, the black Del Trotter, Blades and each weekday afternoon between 1545-1630 they do this:
https://www.bbc.co.uk/iplayer/episode/m000scr6/jay-and-doms-home-fix-series-1-episode-1
It involves one of the cheap makovers or "repurposing" items with wood and bright coloured paint interspersed with "gems" from the archives – even today (February 17th) an excerpt from a 2003 episode of "Flog It", which, though it ceased recording three or four years ago goes out nearly afternoon intact on BBC2. Oh, and Alan Tichmarsh from 2002. The newest item appeared to be a 2016 Money For Nothing.
Jay wears his intellectual black specs (no doubt acquired during his days as a "philosophy stoodent") and Dom has a black shirt and an artisan beard and looks a bit like the late Michael Flanders.
There is cheao and there is shop-soiled with staiined packaging and a leaking tube, Jay and Dom belong in the 75% off bargain bucket in Poundland.
Nominated by W. C. Boggs