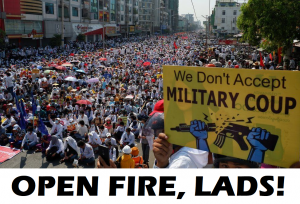 I listened to the News a couple of days ago and have a few conflicting thoughts.
1, a group of people, I believe calling themselves "reclaim the streets" had asked to hold a vigil, they were told no by the high court.
2, The people of Burma took to the streets to protest about the recent Military takeover of their country.
Now here things sort of differ, in case one we have an appointed judiciary who said "No there is a pandemic on, nothing happens".
in case 2 we have "fuck you lump it or die"
so end game case 2, I think 50 shot dead (forget about injury's) and a rather rum time had by all from a non elected repressive regime.
end game 1, a load of people joined an illegal gathering and the police dispersed it.
The fuss on the tv/Radio "crowd dispersed by police" , meanwhile 50 die in Burma.
Bottom line, the high court said do not do it and the police enforced it, you want the police to enforce your view of the law?
Start by following the law, its always good to be friends with the people you need.
Nominated by: lord benny(not quite deceased, but close)