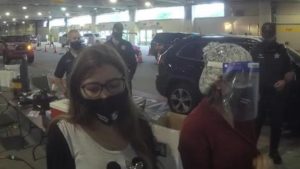 A holy masters (mistresses) of disguise, Batman, cunting for a couple of sneaky "seniors" in the USA.
These two 'grannies' turned up for their second dose of the vaccine ? but staff became suspicious when their birth dates didn't match up. They were subsequently rumbled and the police were called who issued the two women, aged 34 and 44, with trespass notices.
On a serious note, it was a pretty lowdown dirty trick to rob genuine seniors of the dose by jumping the queue but this story has made my week for more than one reason. I'm hesitant to admit both these 'grannies' seem well worth a portion of something injected into them, but thankfully having watched the video realised with great relief I haven't got gilf fever after all, phwooaaaarrrrrrr ?
https://www.bbc.co.uk/news/av/world-us-canada-56138699
Nominated by: TheBestRevengeIsLivingWell