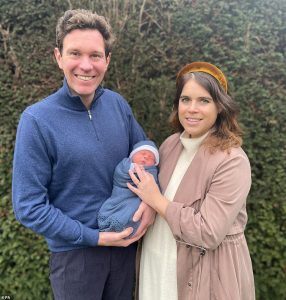 No, not the month, melancholic though it is – the real dog days of summer in Britain when it is getting dark at 8.00 in the evening and the first fireworks are going off and the Xmas cards are appearing in Clintons. This cunting is for the offspring of that daft tart Princess Eugenie, who always looks as though she has had a red hot poker stuck up her arse, judging by the eyes wide open look of surprise on her ugly mug. They have called the poor little bleeder AUGUST:
https://www.dailymail.co.uk/femail/article-9281213/Princess-Eugenie-husband-Jack-named-son-August-Philip-Hawke-Brooksbank.html
What a fucking liberty – Eugenie and all the other hangers on, including her mum Sarah Ferguson and her dad – the bloke who sang Thank Heavens For Little Girls (allegedly), just know they will never have to live in the real world like the rest of us. Can you see the little lad in 16 years time, clocking in, in his overalls with a name like August?
Nominated by :W. C. Boggs