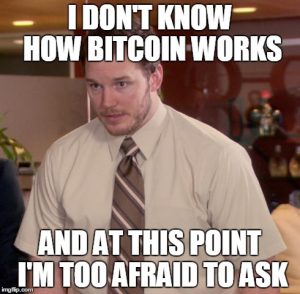 Bitcoin is a cunt.
I don't get "crypto currencies" and the more I read about them the more I glaze over. What irritates me beyond belief is the number of spam emails offering this crap which turn up in my in box. My spam filter misses them and even though I mark them as junk I still get dozens a day. The email addresses they come from are all made up of badly spelt fake names and gibberish. Obviously generated by some sick bastard sitting in Nigeria or some other scam hell hole.
I wouldn't touch this "investment" with a barge pole as it seems to be based on a complete and utter fallacy. Bitcoin exists only in cyberspace and is not backed by gold reserves or any other tangible asset.
The fact that that huge wanker Elon Musk is now allowing his Tesla cars to be bought by Bitcoin does not convince me one iota.
The world's monetary system is crazy enough as it is without adding more instability.
My good lady and myself will continue to maintain the family fortune in premium bonds and post office savings.
Nominated by: Lord Helpuss