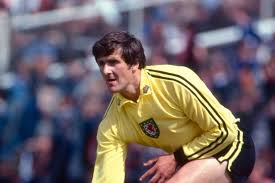 Congratulations to me (Shaun) who correctly picked former Welsh National Goalkeeper Dai Davies who has died from cancer aged 72.Davies as well as achieving 52 caps for Wales also played for Everton Wrexham and Swansea City over a 17 year professional career.
On to Dead Pool 201.You Know the Rules:
1) Pick 5 famous cunts you think will conk out next. It is first come first served. You can always be a cunt and steal other cunters' nominations from previous pools.
2) Anyone who nominates the world's oldest man or woman is a cunt and will be ignored.
3) It must be a famous cunt we have heard of.
4) If your pick has already been taken, tough titty. Pick someone else because we can't be arsed to check.
So on your marks, ready….set…..go!
My Picks (Shaun)
Gerd Müller
Sir Michael Cullen
Gunther Von Hagens
Paddy Doherty
Ryan O`Neal