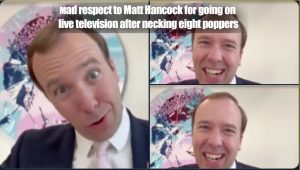 (This cunt has to be on drugs to think up this fucked-up idea, hence the pic – DA)
Matt Hancock has gone full mental, and therefore, given his high office, is a high cunt.
The new 10 year prison term for lying, is the latest and most deranged of his schemes:
https://www.bbc.co.uk/news/uk-56007798
His boss, the Johnson cunt, has been obsessing about the need to keep variant strains under control and this is Hancock's response.
So, lying is now considered on a par with burglary with intent to commit rape, and sexual assaults on children. That will be good news for the child rape gangs, to see their activities put firmly into context by the government.
With lockdown now a permanent fixture – still no end date despite so-called success of the so called-vaccine programme, protests banned, and parliament and the patsy MSM doing nothing, how long is it before Hancock decides the death penalty is justified to keep people safe, and we have the Johnson cunt on TV telling us that "the end is in sight", "Just a final push" "largely free by next Christmas"?
The words of Johnson's beloved role model, Winston Churchill, when asked his views on Hitler, might accurately sum up Hancock "The man is a mustachioed nut job. A total bellend. In short, a fucking cunt."*
*Some paraphrasing used.
Nominated by: Twenty Thousand Cunts Under the Sea