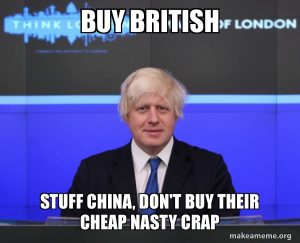 A fifth columnist, persistent cough of a cunting for Boris Johnson. The fat, traitorous blonde twat has declared that he is " fervently Sinophile ", as he strives to strengthen economic links with China.
The little yellow weasels cause global misery with the Bat Flu, and this big dopey cunt wants to be best friends with them ? We, along with everyone else, should be holding the dirty little bastards to account, not sucking up to them.
They're getting away with it, scot free.
With the aid of our Moron In Chief.
Boris, you have been cunted, now fuck off, for fuck's sake just go.
https://www.theguardian.com/politics/2021/feb/21/boris-johnsons-warm-words-on-china-likely-to-infuriate-backbenchers
And fuck the Uighur's too.
Nominated by: Jack The Cunter
…and seconded by Twenty Thousand Cunts Under the Sea
Boris Johnson is a total and utter cunt spatter.
His precious "Road map" means no haircuts until after fucking Easter, if then (as long as this third lockdown has already lasted already, again).
This shit will never end. We are being pissed on and are expected to be grateful for the wash.
https://order-order.com/2021/02/22/new-read-in-full-lockdown-wind-down-roadmap-plan/
Fuck off, Johnson.