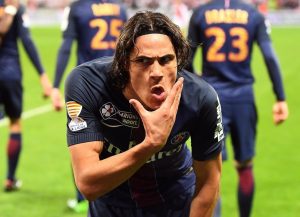 They have charged Manchester United "New Boy", Edinson Cavani for daring to use a word that sounded like it might be offensive, to someone, somewhere?
Here:
Edinson Cavani has been charged with misconduct for a breach of FA Rule E3 in relation to a social media post on Thursday 29 November 2020.
It is alleged that, contrary to FA Rule E3.1, a comment posted on the Manchester United FC player's Instagram page was insulting and/or abusive and/or improper and/or brought the game into disrepute.
It is further alleged that the comment constitutes an "Aggravated Breach", which is defined in FA Rule E3.2, as it included reference, whether express or implied, to colour and/or race and/or ethnic origin.
The striker has until Monday 4 January 2021 to provide a response to the charge.
FA Rule E3.2 – WHETHER EXPRESSED OR IMPLIED???
For fucks sake-it's a fucking witch-hunt. McCarthy had nothing on these libtard cunts.
They will ban him for 3 games.
So what is his crime? (perceived or otherwise):
Negrito.
He responded to a congratulatory post from a friend on instagram, after scoring a brace for Man Utd, with the phrase "gracias negrito"-a term of endearment in south America. It can mean someone with dark hair, as well as slang for "mate".
He removed the post and apologised. And hasn't played for Man Utd since?.
Life really is imitating art-think of the scene from "The Life of Brian"-where everybody gets hysterical over the use of the word "Jehova".
The FA are spineless cunts.
There rests the case for the prosecuntion?
Nominated by: Cuntfinder General
….and a follow-up from Cuntfinder General
The FA
Dear Admin,
I recently nominated the FA (Fucking Arseholes) for their treatment of Edison Cavanni, more specifically the interpretation of a South American phrase he used to celebrate his debut goal For Manchester United, on a South American social media, in response to a message of congratulations from an old friend.
Well the FA (CUNTS) have held the kangaroo court:
https://edition.cnn.com/2020/12/31/football/edinson-cavani-ban-fa-spt-intl/index.html
I don't know if that nomination went into IsAC room 101.
If not, this link would finish it nicely.
PS: Happy New Year Admin(s)?