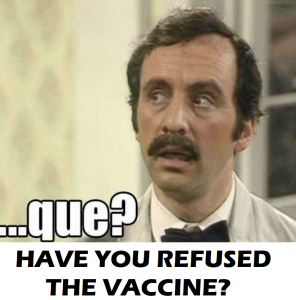 A Covid Christmas cunting for Spain who have decided to start a register of people who refuse the vaccine.
The list will be private (yes right) but shared with other EU countries so no chance of it being leaked.
Now I am in favour of the vaccine but not making it compulsory. However if people refuse the vaccine, especially those who have a high chance of becoming very sick,they should have it spelled out to them that the risk of the vaccine is minimal compared to the Chinky flu. If they still say no just move on and fuck the cunts.
What would piss me off is people not turning up for appointments, therefore wasting the time of those administering the vaccine and possibly wasting doses. That would justify a 'cunts list'.
(Link to a news source is here – NA)
Nominated by: Sick of it