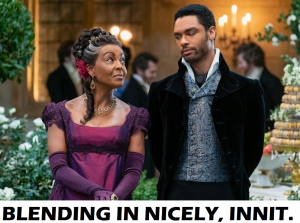 I would like to cunt the Netflix series "Bridgerton", a period drama set in early 19th century ENGLAND. However, it will come as no surprise to my fellow cunters that there are dar quays and parking stanleys floating around in the upper classes. Queen Charlotte is played by some half caste, and of course the lead character turns down all WHITE suitors who are nasty, "backward" and waycist, in favour of being scuttled by some Leroy.
There are undertones running throughout that all the "white privilege" of titles, land, etiquette et cetera is, of course, wrong and to be brought down.
Fuck off.
Nominated by: McCunterson
and supported by this from Miles Plastic 
This is the new historical drama from Netflix, but in one episode there is a female masturbation scene.
The Lady in question is taught how to do it by an aristocrat who is black. So far so good for historical accuracy. And far from him being portrayed as a bounder or a cad he is seen (from the commentary) as a liberator of women's sexuality.
Got me thinking about 'Upstairs Downstairs'. There were no female masturbation scenes back then. What would Hudson have thought if there were? or even Mrs Bridges?
No the lower orders wouldn't come into it. Maybe you could have had Lord Bellamy saying Lady Bellamy was delayed for dinner because she was 'knocking one out'. No that wouldn't have been in keeping with the series.
What about the Onedin Line? That certainly was more racy than Upstairs Downstairs. In the privacy of a cabin maybe. Yes, this is how you 'bring yourself off'. No once again you just couldn't have gone that far.
Even Downtown Abbey didn't have these 'self-pleasuring' scenes and that was only a couple of years ago.
No it's a brave new world we have entered. We are living in the 2020s. These things are not taboo anymore. Indeed most of the comments (see below) are stating it's about time females are seen pleasuring themselves in productions.
But what about male masturbation on our TV screens. Isn't it sexist? We need more Wankers in our historical dramas. Fine upstanding Tossers we can all be proud of.
Parity is Paramount. I mean if we have Lady Hamilton 'flicking the bean', we must have Lord Nelson choking the chicken.
https://www.thesun.co.uk/tv/13588157/bridgerton-fans-shocked-masturbation-scene-netflix/