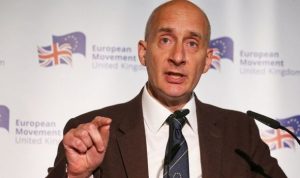 Oh what a gay day for another cunting for the whey-faced old bastard so divorced from reality, that he imagines June 2016 never happened:
https://www.express.co.uk/news/politics/1378271/brexit-latest-news-boris-johnson-EU-trade-deal-royal-assent-britain-leaves-11pm
Yes, the old pansy with his fascist viewpoint doesn't like Brexit, never will like it and is determined even now to stop it, or to restart the process of getting us back in the corrupt bunch of wankers.
A lot is said about making the unemployed work. For a couple of years in the mid 80s Adonis was a minor councillor in Oxford. The 90s and 2000s saw him sucking the arse of whoever was in power to get an "important" job. When finally told to fuck off, as no commercial organisation would employ the useless old turd, he spends all day on Twitter spinning his poisonous web.
Surely it is about time he was made to work. I am sure there is a lavatory in London that needs an attendent to clean it out. If he is lucky we might give him a broom, so he doesn't have to use his tongue.
Nominated by: W. C. Boggs
and seconded by: Quick Draw McGraw 
Lord Adonis.
It's 4:40pm, New Year's eve. At 11pm, the United Kingdom will finally be free of that evil, insidious, proto-Communist organisation known as the EU. Most remainers have accepted the inevitable and moved on. But not all. 'Lord' Adonis, who has never stood for elected office, has announced that he wants to lead a campaign for the UK rejoin the Fourth Reich.
For fuck's sake. Adonis and his ilk have spent the past four and a half years trying to overturn the democratic will of the voting majority. They failed. But like a four year old who loses a game of snap, Adonis and his immature bunch of loons just won't admit defeat. In fact, Adonis stood up in the Lords today and actually claimed that Brexit was akin to Chamberlain's appeasement of Hitler. What a despicable little creature Adonis is. And completely misnamed.
If Remainers want to suck EU cock, that's their business. As far as I'm concerned, they're nothing but traitors. A living affront to every man and woman who has died to keep this country free. NOBODY voted to join the EU. We weren't even asked if we wanted to join a multi-national political organisation. People at the time were lied to when they were told that we'd simply be joining a trading bloc. And it was Major, back in '92 who signed the Maastricht Treaty without the permission of the British people, thereby bringing the EU into being.
As far as I'm concerned, this is the correcting of an injustice that has been allowed to stand for over 30 years. If you want to live in an EU country, under the jackboot of a bunch of undemocratic, incompetent authoritarian cunts, then fuck off to a country that's still a member. If you're not prepared to do that, shut the fuck up.