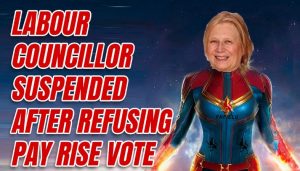 A nomination for Enfield council's Labour Group.
This comes courtesy of the Guido Fawkes website.
On Monday (11th January), Labour councillor Ann Brown was suspended by Labour Group Chief Whip Claire Stewart. Her heinous crime? She abstained, as a matter of conscience, in a vote to award a pay rise of up to £7,608 to her fellow Labour councillors. The Labour Group then voted to support Stewart's decision.
Some of those who voted to support their Chief Whip are beneficiaries of the pay rise and apparently, they didn't declare their financial interest, which could have made them ineligible to vote because, y'know, conflict of interest.
Isn't it comforting to know that, in a time when thousands of businesses are closed, some of which will never re-open, that the priority of Labour councillors in Enfield, is to fill their pockets. And then cynically vote to punish one of their own colleagues for having a moral compass. What a bunch of cunts.
Nominated by: Quick Draw McGraw 
https://order-order.com/2021/01/13/labour-councillor-suspended-after-refusing-to-back-politician-pay-rise/