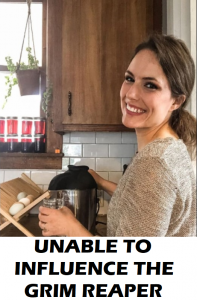 A sad tale.
Pregnant influencer Emily Mitchell's cause of death revealed after she passes away aged 36
Emily Mitchell, an influencer who passed away just before Christmas, died of a pulmonary embolism, her family has revealed.
Never heard of her but as an 'influencer' presumably she earned money for promoting shit. And the reason for this cunting? Well:-
'Her family have revealed her cause of death on a GoFundMe set up to raise money for her grieving husband and children.'
There you have it. Why not turn a tragedy into a sordid fundraiser? If you live by making money from pointless 'influencing' fucking morons why not continue into the grave courtesy of your grasping husband.
Anyone wishing to contribute can look on GoFuckme.
(Link provided by Cuntlestiltskin – NA)
Nominated by: Cunstable Cuntbubble