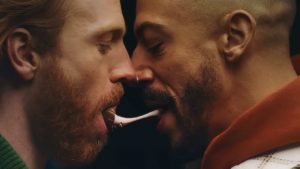 An emergency cunting please for Cadbury's and their new cream egg advert.
It seems somebody thinks it's a good idea to have a couple of benders share one at the same time, in a chocolate and cream gayness snog.
Maybe it's me, but chocolate and cream seems a metaphor for spunk and shite.
I'll be buying Fruit Pastilles instead then I think, until some gay shoves some up his arse for a gerbil to munch on during the ad break for 'The Chase'.
Obviously, the fact little kids will be subjected to this filth is to be celebrated.
Repent! Repent!
https://metro.co.uk/2021/01/10/cadburys-new-creme-egg-advert-featuring-gay-couple-praised-online-13878625/
Nominated by: Cuntybollocks