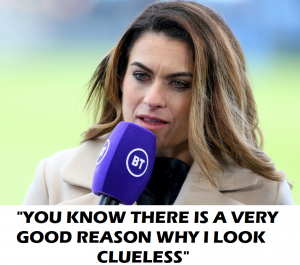 Female Football Pundits
It seems that if you're a split arse, you can talk shite about a club and should not be criticised for it.
The stupendously annoying Karen '144 caps for England' Carney being the latest example. What happened was one of the main reasons I gave to people a while back why there shouldn't be women pundits on the men's game. They can't be argued with.
In a nutshell, she (wrongly in my opinion and I am no Leeds fan) claimed Leeds were only promoted because of the Covid break. She doubted they would've 'got' up had they not had the break.
Now, I do believe she is entitled to such an opinion. But she needs to stand by it. To be fair, I haven't heard her say anything yet (but she should be arguing her case and saying it's not sexist to argue with her points). It's the usual mob coming to her defence. Rio Ferdinand being one of them. You see, Leeds United responded (politely) to prove her wrong. That was it. Cue an absolute meltdown. How dare anyone question a split arse. 'It's bullying, innit?'
Well, here's the thing. If wimminz want equality and to be treated the same as a male pundit, they need to defend controversial comments.
If Graham Souness had said such a thing, no fucker would be telling the club concerned to 'back off'.
In fact, I recall Gary Neville laying into Arsenal one night a season or two ago. Had a massive rant and called the players a disgrace or summat like that. Next time on Sky, he was put through the grinder by the presenters and other pundits. He was right to be honest, but he said he probably went a bit overboard but stood by his comments. He took all sorts of shite too on social media for it. Far, far worse than anything Carney's been getting.
But no,we can't question a split arse when she says similar bollocks.
Fuck that. She wants to play at being a pundit, then expect clubs and players (and fans) to argue against you if you make highly controversial points.
Fuck off.
https://www.bbc.com/sport/football/55485336
Nominated by: Cuntybollocks
and this from Sixdog Vomit 
Football Pundits
A half time nomination for football pundits in general and the BBC's chief football writer Phil McNumpty in particular.
Every week they take aim at whichever big name manager's team has lost a couple or few games consecutively. Wilder at Sheffield Utd, who've picked up two points all season, doesn't get a mention.
For a while this season McNumpty and co were gunning for Ole Gunnar Solskjær at Manchester United after a lacklustre start to the season, now United are second on goal difference. Then they took aim at Arteta at the Gunners, who were on a bad run but were only a couple of wins away from stability. Now it's Frank Lampard at Chelsea. After a long good run Chelsea have a blip and McNulty begins the speculation about Frank's future. Sixth in the league and a a couple of wins from being back in the Champions League spots, but according to McNumpty a prime candidate for the sack.
All the cunt does is speculate on a manager's future whilst offering no insight into what they are doing wrong or what can be changed.
What a waste of the licence fee.