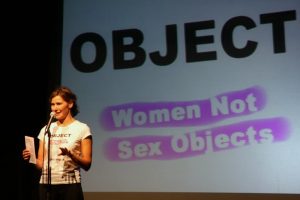 Sasha Rakoff and 'Not Buying It.
A quick 'don't you look at my minge!' cunting for Dr Sasha Rakoff & her 'Not Buying It' pressure group.
https://www.bbc.co.uk/news/av/stories-48629890
This outfit of misandrists are opposed to women doing any kind of sexwork and actively obstruct women who choose to. In order to get Spearmint Rhino clubs closed, they took covert mobilephone footage inside the establishments, which supposedly recorded activities that go against the licensing rules for lap-dancing clubs, in order to prevent the license being renewed.
Not unnaturally, the girls that were videoed didn't like it and went to court to try to prevent it being used; a case that they ultimately lost.
Personally, having never been in one, I couldn't give a shit one way or another about lap-dancing clubs, but I'm sick to death of interfering busy-body organisations thinking they know what's best for the general populace and sticking their bloody oar in. Dr Rakoff may not want to get her thruppennies and hanging bacon out for the lads, but she and her rabid bunch of manhaters are not womankind in its entirety, nor do they speak for it.
In the video she says that 'we get accused of being sexually repressed…'. Really?? Now there's a fucking surprise! Looking at her, far be it from me to suggest that a good wash, owning a comb, putting on a bit of lippy and brushing up on the art of fellatio might quell some of those accusations.
They talk about stopping prostitution on their webpages too, which is a bit of a joke really because it ain't called The World's Oldest Profession for nothing. Paid sex will still be happening long after the delightful Sasha's dried-up, fetid clunge has rotted away with the rest of her. So do us all a favour love, give it a rest and stick the kettle on, will you.
Nominated by: The Stained Gusset