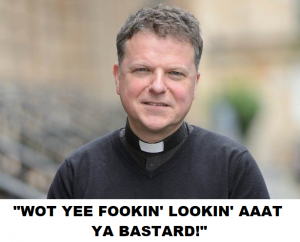 An emergency cunting (and not a Wise man in sight) for this Jock prat, who follows so many others in making an arse of himself to rush into the BBC ocean of Covid-fuckery.
Thinking back to the First World War and the Xmas Day football match where our lads and the Hunn joined together in a truce, this daft looking old cunt wants the same thing in 2020:
https://www.bbc.co.uk/news/uk-scotland-54682086
Don't worry, he doesn't want to see Frau Adolf Merkel in her micro-shorts dribbling, the old idiot wants a "truce" with the virus.
Does he really think that a virus can discriminate to that level? did he just want to see his name in print, or did he overdo it on the communion wine today?
What a wanker!
Nominated by: w