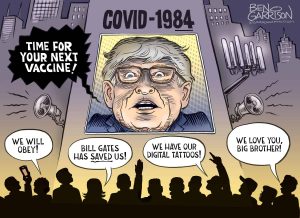 It was with great glee and exhilaration that the Ministry of Truth put out its notice this week that a vaccine has now been successfully developed.
Not less than 3 days later and Ticketmaster has said it will want proof of vaccination or negative test before entry to events. The Premier League wants to implement a 'freedom pass' – Orwell is now on turbo-spin in his grave.
Hancock said on the radio they've been planning for the vaccine rollout for months. No wonder then that they have been steadfast in their refusal in denying the gargantuan body of experts contradicting SAGE and who are trying to tell us that this is nothing short of gigantic fraud and medical tyranny.
GCHQ is now conducting industrial espionage on behalf of the pharma companies, silencing 'anti-vax' sites and people who dare question the science. The Royal Society in London said we should consider criminalizing anti-vax misinformation. The army is using its 77th brigade to fight 'anti-vaxxers' online.
Just what exactly are they so afraid of? The truth can always stand up to scrutiny. Unless of course the truth is one big pile of shite.
The data clearly shows CV19 is no more dangerous than a seasonal flu epidemic, and for under 75s a non-risk. But you know what the data also shows? That every major disease for which we created a vaccine for was already in decline long before the vaccine was created. Go look it up. Could it be that better sanitation, water and food quality is responsible for the decline? Matches up pretty fucking well in my opinion. Maybe people get diseased because we live a completely artificial polluted society. Ask the Victorians about their green arsenic based wall paper.
When they try to coerce everyone into getting the vaccine, which they will, just remember you have a choice. Your body belongs to you, not the state. I will be telling them to shove it up their Rs sideways.
Nominated by: The Big Chunky Cunty