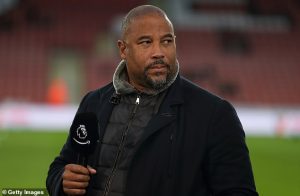 What the fuck is wrong with John Barnes?
'John Barnes claims Liverpool boss Jurgen Klopp would have been sacked in his first two years in charge at Anfield if he was black!
Where did he get that conclusion from? Is there evidence that a black manager is disposed of cos he is black, innit?
Why would white supremacists appoint a black manager in the first place?
I remember Barnes from the days I watched football. He had to put up with some nasty shit from the crowd. He doesn't seem to have been much good as a manager but then, few are and most are sacked. It has fuck all to do with colour.
Liverpool, like Man Yew before them seem to have seen the wisdom in keeping a manager with potential through lean times. Or did they do it cos they was white? Or in Fergusons case a sort of mottled red.
Barnes, fuck off and stop jumping on the latest, racist bandwagon.
Nominated by: Cuntstable Cuntbubble
(More here – DA https://www.dailymail.co.uk/sport/football/article-8945581/John-Barnes-believes-Jurgen-Klopp-SACKED-two-years-black.html )