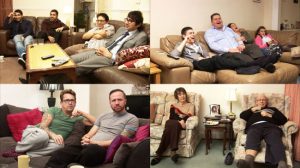 'And in Wiltshire Giles and his wife Mary', 'And in Derby the Siddiquis'. 'In Hull Jenny and best mate Lee'.
Fucking Craig Cash's moronic gormless- sounding voiceover. As though he's talking to some idiot child. Come to think he's made gormlessness his forte. His character was in The Royal Family. I did hear that Caroline Aherne would get frustrated with him because he was in reality gormless. Mind you she had some anger issues if what 'Hookey' said about her is true.
Another thing about it is how CAREFUL they are when talking about some POLITICAL news item. I mean the families are supposed to be representative of the whole country,-race, class, sexuality. But they're all Leftish. Universal scorn when there was a piece about Sir Nigel.
You have the two Gays. How cosy they are with their very expensive looking pedigree hounds. He got rid of his old Gay and has got a new younger one.
One thing though that female vicar has gone. Sat there in her pajamas- her huge slippers on, her leg over hubby who never said anything.
Yes, that's it. It was sold to us that these are people in the most natural setting and they are free to say what they want. But they're not really. They play up to the camera as in any other setting.
Finish up. They sometimes show them watching an old film. Yes they're they all were huddled up on the couch, knees clasped, eyes wide open, mouth open …at….wait for it…. 'Jaws'.
My jaw dropped as well at all the fucking acting going in.
Nominated by: Miles Plastic