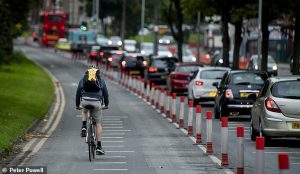 My lovely market town has been carved up with these ridiculous cycle lanes which have halved the traffic capacity and clogged the place up. Every time I've had to endure driving by these things, there are no cyclists in them!! They've even had the nerve to put signs in the lanes stating they are 'Covid-19 Pop Up Cycle Lanes'. What kind of horrific nomenclature is that?
I have no idea how police or ambulances are supposed to get through one lane of traffic. Vehicles can't get by the poles and there is a massive central reservation made of concrete. Are the emergency services to get on their bikes to attend to crime and people in medical emergency? Do they envisage paramedics cycling on customised cycles with a trailer carrying a stretcher and drip? Firemen cycling furiously along with a hose in their panniers? Nor do I understand how taxis are supposed to drop off a disabled passenger. I expect these lanes are in Bournemouth and Worthing – places full of old people that can just about walk never mind cycle!
Now I see in the Daily Fail that the govt are spunking yet more money on this.
https://www.dailymail.co.uk/news/article-8945201/Government-grants-175MILLION-fund-new-cycle-lanes-despite-congestion-clogging-cities.html
Nominated by: Cuntologist 
…and supported by: DCI Gene Cunt
Covid Cycle Lanes and Road Narrowing For Social Distancing.
I'd like to heartily endorse Cuntologists cunting, above and, tack onto it, if I may? He asks how an ambulance manages?
Well, a few weeks ago we got sent to a 16 day old baby, breathing difficulties. Arrive on scene and are confronted with a cyanosed baby, breathing at 72 breaths per minute, low SATS, tracheal tug and recession.
We're on scene less than five minutes, and half that was getting into and out of the truck. Pre-alert Childrens ED and blue-light for all I'm worth. Get near the hospital and these cunting lanes are on the main fucking road leading to it.
Exactly as Cuntologist describes. We're fucking stranded until the traffic lights change. I am nearly in tears with frustration, sat next to an empty fucking 'cycle cunting lane'.
Previously, we had a clear run as traffic could move left and right, allowing us to go through. Not any more. The child arrived alive, no thanks to the motherfuckers on the council for authorising this shitfest. I have no idea what happened to her after.
A very valid cunting.