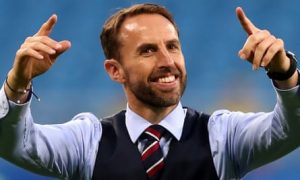 Not content with prattling on about woke issues and white privilege, leaving our most creative midfielder in Grealish on the bench, playing with three right backs and two defensive midfielders and stifling a gifted crop of young attacking talent through his ultra-conservative style of 'football', he has now called up Jude Bellingham to the senior squad.
Whilst he's going to be a fantastic player, Southgate seems to have forgotten the fact that he's only 17, has played just 11 games total in the German top flight and clearly isn't ready.
If he isn't careful he's gonna do to the lad what Eriksson did to Walcott.
Sack the cunt now and bring in Howe or Pochettino.
Nominated by: General Tso's Chiggun