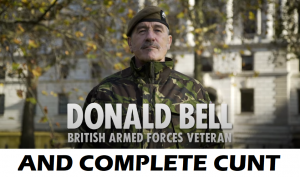 Donald Bell. This is the complete bell end who led the XR desecration of the Cenotaph on Remembrance Day. Apparently, he actually is an ex-squaddie, which makes his actions even more shameful, especially when you consider that he was wounded by shrapnel in an IRA car bomb explosion, that killed two other, and I would say, better soldiers, in Stewartstown back in '74. So you would think he'd have shown more respect to the fallen than he did. Especially since the cunt refers to Remembrance Day as a "little ritual", though I suspect that was said deliberately to cause offence.
I can't find anything that says how long he served, other than he did "four tours of duty" with the Royal Anglian regiment, but the standard service when I was in was 3 years and 3 months, so if that's what they mean, then it's 13 years. What fascinates me about this puddle of monkey semen, is that in all his years of service, he never made it past the rank of private. That's the lowest rank in the British army. Any army for that matter. Compare that to my service, I enlisted in '89 and three years later, I was a Lance Bombardier (the Royal Regiment of Artillery's version of a Lance Corporal. Only much better). About another three years later, I was a full Bombardier. Then a Sergeant. You see where this is going? Donald Bell-End must have been a really SHITE soldier if he spent so long as a lowly Private. To be fair, not everyone gets to earn their tapes, some are happy just to plod on as a Gunner or a Sapper or a Private. Given that Bell-End is such a monumental twat though (he claims to have been writing letters on eco-lunacy for 50 years), I'm going to have go with him being a shite soldier.
And this isn't Bell-End's first act of dickery with XR. Back in February, he was one of the lizards who dug up the lawn at Trinity College, Cambridge, and was later nicked for gluing his hand to a plod mobile. Personally, I would have driven the little shit to the nick while he was still stuck to the vehicle. Apparently though, that would be inhumane.
To a lot of people, what he did wasn't that serious. But it is for me, and I'm sure my fellow cunters, especially the veterans. I've lost five good mates over the years I was in the army. I actually saw two of them die. You would think that someone who had also seen two mates die, would show at least a little respect. All this piece of shit has done though, is turn people away from his cause, whilst actively dishonouring the memory of the fallen. What an utter cunt.
Nominated by: Quick Draw McGraw