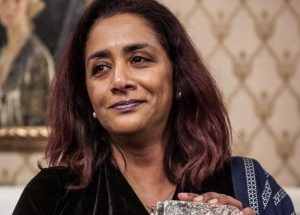 No, nor me but I have included her brief description below.
Sunny Singh is a writer of fiction and creative non-fiction. She is Professor of Creative Writing and Inclusion in the Arts at London Metropolitan University.
No, not science or engineering. Creative Writing and Inclusion in the Arts. Whatever the fuck that is. However it must be important because the former Battersea Plumbing Polytech employs her.
Why the cunting? See below, and I quote her words:-
'I get regular invites to debates on various platforms. I always say no. Debate is an imperialist, capitalist, white-supremacist, cis, heteropatriarchal technique that transforms a potential exchange of knowledge into a tool of exclusion and repression.'
From what little sense I get out of that I deduce that there is only one viewpoint, hers and her woke ilk. There is no argument. Especially with so many invented words.
Lucky ex Battersea Plumbing School to have her fulfilling such a vital role.
Not surprised the cunt is in London. Rather surprised that a Sikh can be such a pillock.
Nominated by : Cuntstable Cuntbubble