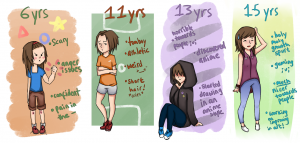 If you haven´t got one, don´t read on. What happened to the little bundle of fun who once asked me, "Daddy. Are you really the strongest man in the world?" When I modestly assented with a nod, she then made my day by asking, "Can I feel your muscles?" I then flexed my mighty arms, warning her to be careful so she did not get her tiny fingers crushed by the sheer strength of my biceps. Another time on a train, she wrapped her arms around my neck and declared to all the other passengers, "This is MY daddy".
Those were the highlights of my life and things have gone readily downhill since then. Nowadays, when I visit her, she pushes me out of the way, says I am too feeble to carry my own suitcase and hefts it onto her shoulder like a brickie. She accuses me of dithering if I spend a nanosecond wondering if we go left or right in the street or if I don´t instantly recognize the name of some celeb I´ve never heard of or know how to use the latest app.
My brother has a son and seems to have a different relationship with him. They barely speak but seem to be on the same wavelength. Have I missed out on something here?
Nominated by: Mr Polly