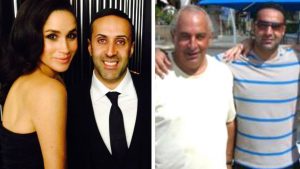 (Hussain rubbing shoulders with Sparkletits and Phil Green back in 2013 – DA)
In the week that the Nobel Prizes are being dished out, I would like to welcome you to the debut of the Keith Vaz Prize for Criminal Greed purely for the most corrupt of our foreign brethren, (you see, I am so woke) and announce our first prize winner. It's a crowded field, as you can imagine, but please give a round of applause for our Manni:
Mrs. Boggs has developed square eyes to the point she will watch any old shit. If there is a twenty minute delay between Emmerdale in 1997 and Weatherfield in 2001, she will channel hop, and at 10.00 in broad daylight, her refuge is usually 20 minutes of a ghastly show with no budget or purpose called Homes Under The Hammer which, like Escape To The Cuntry has ran since God was a teenager.
That show has many Manni's who look the same act the same and dress the same – sort of Asian Del Boys or Arthur Daley's. It encourages greed and exploitation. If you have friends or family who can't get a decent home to rent or buy, it is thanks to greedy cunts like Manni, so please, give him the clap – give him the clap he so richly deserves.
https://www.bbc.co.uk/news/uk-54442979
Nominated by: W. C. Boggs