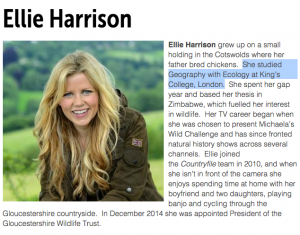 Ellie Harrison is a cunt, isn't she.
"The British countryside is racist and white people need to acknowledge they have benefitted from the past" declared this wealthy leftie whilst glugging champers and checking people are listening.
This virtue-signaller is usually discovering new techniques for killing cows on the dreariest programme on TV – Cuntryfile. When she's not discussing potato fertiliser or new innovations for sheep slaughter she's moaning about equal pay. Zzzzz.
Yes, yes, she is rather attractive, I would certainly allow her to mount the Magnanimous pole providing she keep the noise to groans and whimpers as I suspect she might have a bumpkin twang and they can be as unpleasant as Irish or Australian accents.
I spend a lot of time in The Lakes where my family seat is and I've seen people of colour on the mountains. Admittedly they do look a tad odd yet they seem content and friendly, and aren't stealing, selling drugs, decapitating infidels, or grooming children.
"The BLM has led me to re-evaluate my behaviour" said Ellie. Zzzzzz. Where's John Craven with a cow-killing stud gun when you require him?
Nominated by: Captain Magnanimous