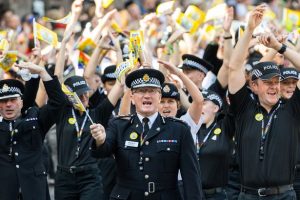 With that fat cunt in Downing Street arguing with redundant Thunderbird puppet, Burnham, Hopkins has vowed to enforce a Tier 3 lockdown 'without fear of favour'. What an absolute cunt. First all, Manchester does not NEED a Tier 3 lockdown, because all the evidence points to the fact that infections here are going DOWN. Second, this is the same Chief Cuntbubble who allowed his officers to stand by and do nothing (except take a knee) when ANTIFA and BLM infested the city centre a couple of months back. Double standards much, Hopkins? Or do you think that the Bat Flu wouldn't affect these wretched, far left, Marxist swamp donkeys?
Hopkins says that he his answerable to Burnham, but operationally independent, which is true. My problem, is that this cunt is playing politics, when the police are supposed to apolitical. If he wants to get into politics, then he should get himself elected. Though considering how useless he is in charge of one the UK's largest police forces, I have no reason to believe he would be any better as an MP. There's plenty of crime in Greater Manchester that Hopkins could be focussing on. They still haven't found my stolen car for a start. The last thing Manchester needs right now, is yet another overpaid political gobshite.
And if he really wants to do something useful, he can start by raising the standards of his officers. I saw one in the city centre on Thursday who looked like a sack of shit. His uniform was a mess, he had a man bun (aka, 'Twat Knot') and his was, to put it mildly, unkempt. How can he expect people to respect his officers when they look like Charlie Chaplin's grandchildren? Any, Ian 'Hitler' Hopkins, you are a cunt.
Nominated by: Quick Draw McGraw